Why volunteer at the Open Cupboard Food Pantry
To a person, Open Cupboard Pantry and Thrift Shop volunteers will tell you they find the work satisfying and rewarding. Many of our dedicated volunteers are retirees who decided it was time for them to "give back" to their community.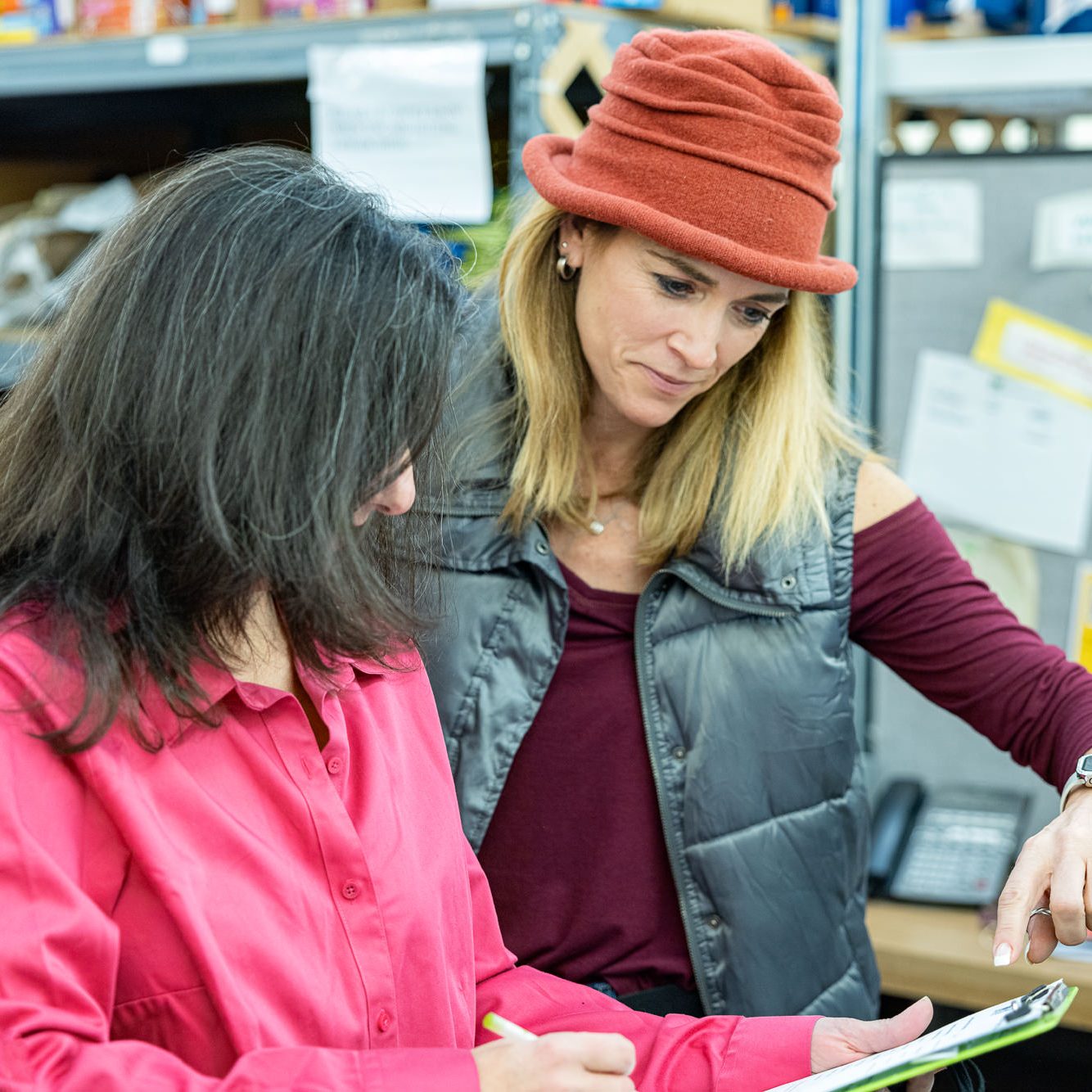 Tobey Wodder of High Bridge
has been with the Food Pantry since it was "very small, in a closet in the High Bridge Methodist Church." She started out bagging groceries and soon moved to the office, where she writes the Pantry thank-you notes and inputs data. Within a few years she joined the nonprofit's board.
"We live in one of the wealthiest counties in the country, and there's still need here," she said. "This place has been going since 1993, meeting the need entirely through the generosity of the community. Some people bring in one pound of food; others do a food drive and bring in thousands of pounds – but it's all through the community."
The need for volunteers is constant, Tobey said. "We want to make it work for pantry clients with better hours, but we need a lot more volunteers to open full retail hours. The work is fun, you're doing something really important, and you form lasting friendships with the people who work here."



Rick Gajewski of Whitehouse
volunteers at both the Food Pantry and the Thrift Shop, as does his wife Kim. He and his wife were interested in getting involved in the community, and have been with Open Cupboard for two years.
"Being in Hunterdon County is different than the city," the Newark native said. "There's a presumption that there are not people to feed. That's incorrect. Once you see people coming in for groceries, you see there's a real need – there are a good number of people here who are in need – and helping them produces a level of satisfaction."
Someone donates a jacket, for example, and it sells in the Thrift Shop for $10. "Convert that to cans of vegetables, say carrots, and that $10 translates into 20 meals that have a vegetable," he said. "That's huge! When you actually see the end product, that's where the reward comes in."



Leslie Wells of Lebanon Borough
has been volunteering at both the Food Pantry and Thrift Shop since the coronavirus pandemic began early in 2020. In the Food Pantry, she greets clients, handles the administrative process, gives them a tablet to complete their order online, and then hands off the order to other volunteers who pull the food. She also schedules appointments.
"Some of the clients are older and don't feel comfortable using the tablet to place their orders," she said, "so I help them with that. People have different comfort levels – some do this at home, some do it here, some prefer for me to do it. It's all individualized."
On Wednesdays, when there's still time left in her shift after she finishes with pantry clients, Leslie moves to the Thrift Shop. She might help at the register, wrapping and bagging merchandise for customers, or price new items and put them out on display.
A fan of thrift stores herself, Leslie also helps out at her church's thrift shop. "I'm retired," she said, "and I had the bandwidth to help when the pandemic began. I wanted to be involved with another organization. That's kind of what drew me in."
Functions are different at the Food Pantry and Thrift Shop. "I like that variety," Leslie said. "There are many ways you can help, whether it's with clients or customers.
Leslie encourages people to volunteer. "Not only is it rewarding, but it's fun."



Elaine Skarl of Clinton Township
joined the Open Cupboard volunteer rolls right after it moved to its current location in 2009. "For 35 years I commuted to New York City," she said. "I couldn't do anything because I had a long day. Once I retired, I decided it was time to start giving back. That's when I went over to the pantry and volunteered."
Elaine started with Wednesday mornings, soon added Friday evenings, and more recently started coming in Saturday mornings as well.
"I've been putting client information into the new automated system we're setting up," she said. "That's almost done, and then it will just be a matter of keeping it current. People move, families change, so we're always updating."
The system went live in January 2021, and Elaine wrote procedures for all the volunteers who work with clients as they come in, prepare orders, put out fresh foods on pantry days, straighten shelves at the end of the night, and discard out-of-date items. Her procedures also cover taking in donated food – weighing it, placing it on the proper shelves, or stacking it to be shelved during another shift. "We can have four, five, six people coming in with donations, including church and scout food drives," she said. "They can come in with 700, 800, 900 pounds of stuff."
In her work life, Elaine ran the purchasing department for an international Wall Street firm, so "this kind of follows suit."
"My very first job with the company right out of college was writing procedures," she said, "so I've come full circle – after all these years, I'm writing procedures again."
Elaine said she would "definitely recommend" volunteering for the Food Pantry and Thrift Shop. "It makes you feel very good," she said. "You know the people coming into the Pantry are there because they need to be. You're helping them and their family. Some people coming in are living on a very small Social Security check every month. I don't know how they do it, but they do.
"There's a family where the husband was in a serious accident at work, and Worker's Compensation hadn't come through yet. They needed help with food because they've got little children. Some of the stories are kind of sad, but they keep up a brave front and do what they have to do."



We need you. Your less-fortunate neighbors need you.
This is your opportunity to help your community.

As a first step, just fill out an application .

Open Cupboard Food Pantry is open, by appointment only, Tuesday through Saturday from 9:30 a.m. to noon, and Tuesday, Wednesday, and Friday from 4:30 to 6:30 p.m.

The Thrift Shop is open Tuesday through Saturday, 9:30 a.m. to 1 p.m., and Tuesday through Friday, 4:30 to 7 p.m.
Visit us on Facebook for the most up-to-date days and hours that we're open.